Meet Our Team
Driven by a love of art and design, fueled by caffeine.
Ben Stutzman
Owner + Designer
Never has the world seen a more detail-oriented and data-driven artist. When Ben founded Eyedart in 2004 out of his art studio in San Francisco, he had in mind to create an organization that combined web and graphic design with fine art.
Ben spent his formative years living in Ecuador, St. Louis, and San Francisco and traveled extensively through Europe before settling in the Midwest. His immersion in the rich traditions of sacred art and urban design secured his fascination with the intersections of art, architecture, and design. Though Eyedart has expanded, Ben continues to pursue the goal of blending art and design. He believes that even practical tools – like a company's website, can be cause for inspiration.
Finding enjoyment and harmony with diametrically opposed ideas is not only a characteristic of Ben's approach to work but beyond that, as well. Ben enjoys all things quiet, Shhhhhhhhhh, except for open-wheel race cars and Metallica. Ben also does not like pets but owns and generously cares for three cats.
Ben graduated from Goshen College with a degree in Fine Art and Design.
Neil King
Director of Marketing
Neil is a life-long writer and reader, part-time musician, and occasional bartender. His superpowers include finding humor in most situations, facing change with a positive outlook, and smoothing wrinkles in projects.
After working in academia for the first five years of his career, Neil stepped into a marketing role to support area businesses and not-for-profit organizations. At Eyedart, Neil works with clients to help them grow their unique voice in a way that vividly engages friends and followers.
When not writing stories, he enjoys the thrill of riding country roads and visiting small-town diners and drives on his motorcycle. Neil is also a casual gamer, preferring open-world role-playing games like Elder Scrolls and Fallout, anything with a story. He also takes pride in his ability to work on vehicles and improve his home through construction projects. Nothing sates him like a job completed to the satisfaction or a story told well.
Neil earned his Bachelor of Arts in Communication Studies with a focus in Journalism and a minor in creative writing from Indiana University South Bend.
James Korn
Art Director + Lead Designer
Stunning musician and band portraits, concerts, commercial photography, and eye-popping ad images are often the first things people associate with James. People are often surprised to learn that James is not only the skilled eye behind the camera – but an acclaimed art director and graphic designer, too.
With a few decades of experience under his belt, he's collected a closet full of Addy Gold and Best of Show awards along with mentions in Communication Arts.
It might be his relentless curiosity that keeps his ideas fresh. It's hard to find him out and about without his trusted Fujifilm X-Pro2 with the 35mm f/1.4. This is required gear for walkabouts, concerts, hiking, or camping.
Surrounded by creative family members, James contributes time to his son's Boy Scouts troop, the South Bend Symphony where his daughter played the flute and designing book covers for his wife's novels.
James is a graduate of Indiana University South Bend's Fine Arts program with a Bachelor's degree in graphic design.
Robert Mahoney
Client Marketing Manager 
Robert serves as crucial intermediary between Eyedart and the clients and communities we represent. He plans, develops, executes, and tirelessly communicates on behalf of our customers.
Robert goes about every aspect of account and project management with one mission in-mind; to ensure that we do our absolute best to bring your vision to life. An Elkhart native – and currently a resident of Middlebury, Indiana – Robert has nearly 10 years of experience combined in the non-profit/restaurant/event planning space, and another five years working in consultative sales and marketing.
A graduate of Purdue University in West Lafayette, Indiana – where he earned a B.A. in Elementary Education – Robert also holds an Associates Degree in Culinary Arts and, as such, he has the heart and mentality of a chef. He understands the importance of planning, prepping, and always using the best ingredients to achieve a successful outcome. And, like any good chef, Robert doesn't get frazzled in the event that things get hot in the kitchen.
Robert shares a love of the band Metallica with our founder, Ben, and the two can sometimes be heard discussing their favorite albums and shows; they were recently overheard planning a James Hetfield shrine for one of the spaces here at the office (but this remains unverified).
Favorite food: Ribeye Steak
Favorite steakhouse: Joe's Chicago
How would you like that steak? "Medium-rare, Pittsburgh style."
Favorite Muppet: Animal!
Cake, pie or strudel: pie (technically, i.e. pizza pie)
Favorite Metallica album: Master of Puppets
Amanda McMahon
Director – First Fridays
Our Director of First Fridays and a self-described "Thrower of Parties" – came to us with a very specific purpose in-mind; to key in on this growing community festival and make it even more vibrant and accessible and enjoyable than it already is.
A Goshen native with a B.A. in Theater from North Central College, Amanda is passionate about event planning and the Arts scene in Goshen and (between you, me and the wall) usually has to try pretty hard to contain her excitement when first starting to plan for an upcoming First Fridays event.
Amanda, often the life of the party in her own right, absolutely loves the idea of throwing a huge street festival every month – as well as the creative freedom that comes with the role – and takes to it all with energy and aplomb. She works closely with Goshen business owners and community leaders, as well as local creatives and artists, to make sure that First Fridays continues with the steady mojo-build that has been underway all these years.
A lover of video games and all things beer-related, Amanda – who additionally lends her time and talents to Goshen's Art House theater – also enjoys the chance to help people discover and develop a love of volunteering, which is an integral part of First Fridays' success.
"One of the best things about being the director of First Fridays – as we sort of re-emerge from these challenges of the past few years," says Amanda, "is helping folks get back to volunteering and re-discovering the joy of helping out and seeing the positive impact that it has on everyone involved. When people volunteer, everyone wins – and I love making that happen!"
Favorite food: Sushi
Cake, pie or strudel: pie (pecan, to be specific)
Best part of working at Eyedart: Meeting new people, building relationships, working with volunteers, throwing kick *** parties
Kyle Taft
Video Content Specialist
Kyle Taft is a Goshen native and resident who has spent much time and effort getting to the bottom of video production. A graduate of Ball State University, where he earned a B.A. in Telecommunications and a Minor in Screenwriting, Kyle is an award-winning videographer who, as a Video Content Specialist here at Eyedart Creative Studio, follows his passion every day.
Crafting and telling great stories and producing pieces, real-life or motion graphics, that 'market for good' and work to move the needle for the clients and communities we represent – this is what Kyle is up to here at Eyedart. And he goes about his work, whether here at HQ or out in the field, with the unflappable focus and determination of a seasoned (if not salty) pro.
Kyle is the real, modern-day deal and, yes, he speaks the digital language. He'll talk all day long about reels and trends and platforms and 2D and 3D and tiks and toks and clicks and bots. But don't let his youth fool you – he's a well-schooled enthusiast in all-things-film and even something of an aficionado; he can tell you the story of Alfred Hitchcock's 'blue dinner' and he can back-and-forth at some length regarding the various camera tricks employed in the classic 1933 film, The Invisible Man.
A member of the Music and Memory program at Ball State, a non-profit organization that utilizes the power of music to help people with a wide range of cognitive and physical conditions, Kyle is an all-around good dude who enjoys spending his free time – when not doing great work for Eyedart or working on his next screenplay – kayaking and playing video games and being with friends and family.
Favorite song: Silent Running by Gorillaz
Favorite Director: James Gunn
Cake, pie or strudel: pie (unspecified)
Favorite film: tie, Spiderman: Into The Spider-Verse and Jurassic Park
Best part of working at Eyedart: "Editing a video and working on it until I know it tells a great story."
Peter Langlois
Content Specialist
Hailing from Spokane, Washington Peter is currently pursuing his MBA at Goshen College. As a Content Specialist for Eyedart Creative Studio, Peter – who has previous experience in digital media coordination and as a digital marketing manager – designs and applies content strategies, utilizes social media to increase and maintain brand reputation, and works within our many teams to ensure the highest levels of consistency and engagement across all platforms.
Showcasing our clients, and telling their stories in original, genuine and meaningful ways is what Peter strives for on a daily basis – and his skill, professionalism and enthusiasm is greatly appreciated and valued within our group. (And, also very much appreciated and valued by the group – his rare mastery with the office coffee machine. You rock, Peter!)
Peter is co-parent to an incredibly-adorable pug, Greta – who you will see many pictures of when you visit our office – and he enjoys spending time outdoors in warm weather. He previously attended Spokane Falls Community College before transferring to Goshen College.
We are happy he is here!
Greta's best quality: ability to make any day better
Favorite food to eat: salmon with pesto
Favorite food to cook: "pass"
Favorite part of working at Eyedart: "Being part of an organization that invigorates and inspires and works to bring people and communities together."
Jacob Sandock
Content Writer + Editor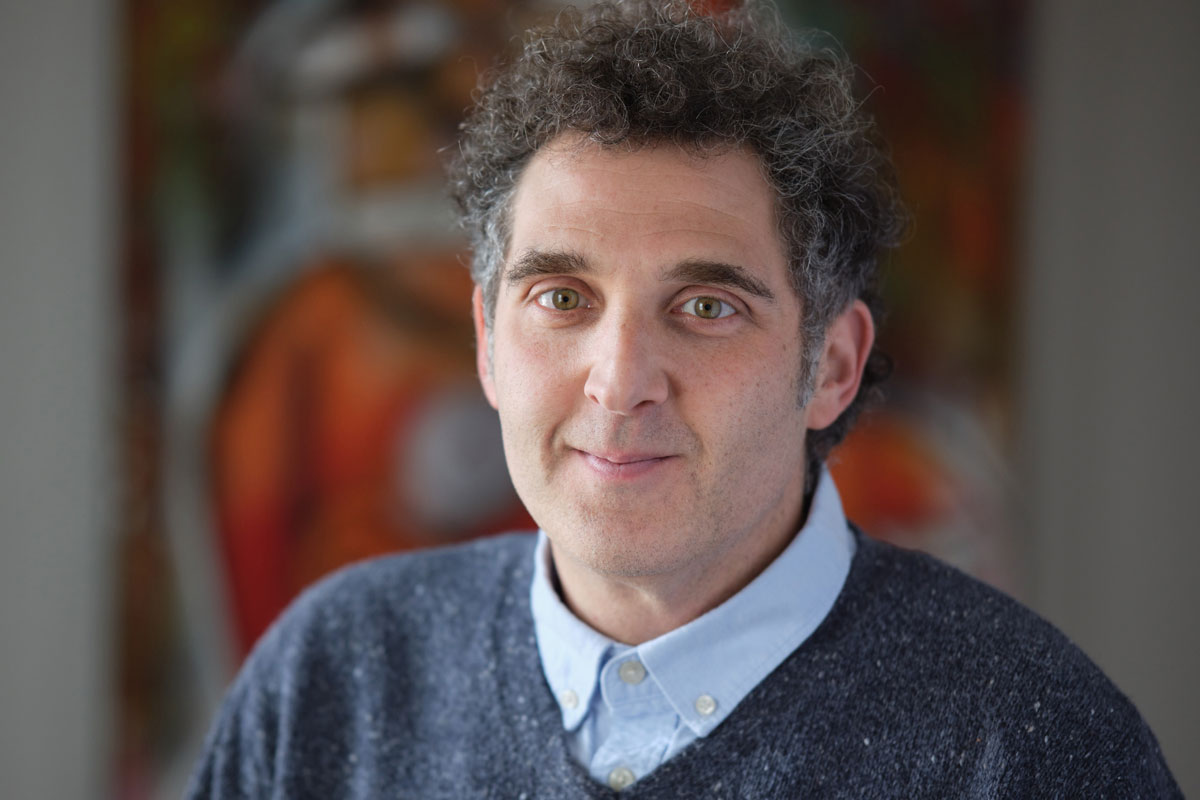 Our Content Writer + Editor comes to us from nearby South Bend, Indiana where he worked for several years as a journalist for the South Bend Tribune and for Irish Sports Report. During his time at the Tribune, Jacob served as a sports writer and editor and also freelanced as a stringer for the Associated Press.
In homage to his sportswriting background – which often entailed nail-biting, post-game, midnight deadlines – he keeps a small, memento-sized bottle of Pepto-Bismol in his desk drawer at Eyedart. (And a large, 3-gallon bottle of it in the trunk of his car. Just in case.)
A graduate of Indiana University South Bend – where he earned a B.A. in Mass Communications (Journalism concentration) and a Secondary Major in English – Jacob has significant experience in the agency space and in journalism and Public Relations. Having been on all sides of the fence, he brings a unique sensibility to his role as a storyteller here at Eyedart Creative Studio.
Jacob is a 2008 Pushcart Prize nominee (poetry) and is involved in the Northwest Indiana music scene as the writer and lead singer for the Goshen-based band, Sanchez Agency. Having started the band, his first, at the age of 43, Jacob is a firm believer that "It's never too late!" Jacob has three daughters and lives in South Bend. He enjoys fishing, cooking, basketball, writing, reading and playing shows with his band.
Favorite song: Brand New Sun by Jason Lytle
Favorite food: Eggplant parm
Cake, pie or strudel: Strudel (raspberry lemon)
Best part of working at Eyedart: "Doing good work and getting to spend more time here in Goshen – it's such a lovely place."
About Eyedart Creative Studio
Every person, business, and community has a stirring story to tell.
Our job is to make your story unforgettable.
Knowing how to design and deliver a clear message to the right people at the perfect time is one of the most challenging tasks individuals and organizations face. To successfully engage people with your story and move them to act, Eyedart develops and implements creative strategies focused on relationship management, research, action-oriented planning, and expertly skilled design.
Our innovative plans increase consumer spending, improve your business structure, and attract key stakeholders in a competitive market.
Creatively and collaboratively, we transform your ideas into profitable ventures.